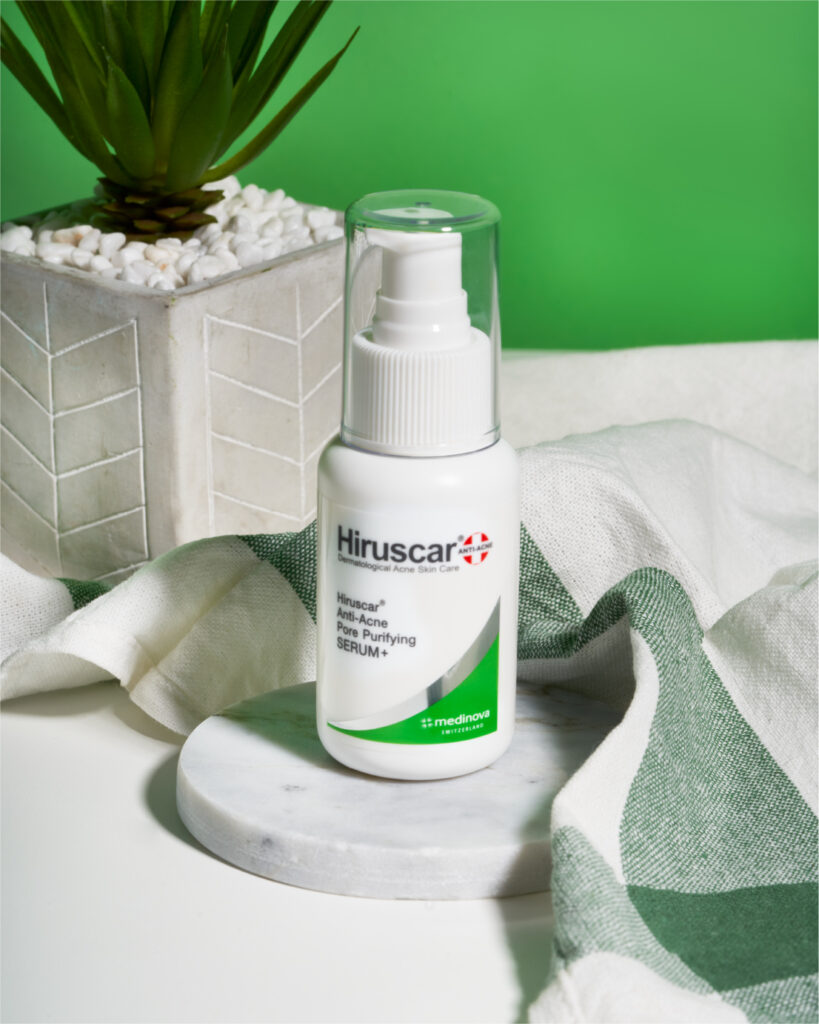 As we know, acne can affect people of all ages and can be quite itchy, painful, and irritating. Acne is a skin condition that happens when oil and dead skin cells get clogged in the hair follicles and can damage the skin and the tissue underneath it. 
4 Main Causes of Acne:
Excess oil (sebum) production
Clogged hair follicles by oil and dead skin cells
Bacteria
Inflammation
Managing acne-prone skin can be a bit of a challenge if you are unsure of what to do. Therefore, finding the right skincare is a very important step in solving your acne issues.
If you're planning to tackle your acne problems, you need to look beyond just a cleanser. By adding in more powerful products like moisturizers, purifying serum for acne skin, anti-breakout serums, and skin clearing lotions, this can really help to control the formation of acne.
Adding specific products to your skincare help with specific problems you're facing, especially the serum, which works effectively to remove acne scars and maintain healthy skin.
The Benefits of Anti-Acne Serum! 
Applying anti-breakout serum on your skin is always a great step after cleansing. Designed to nourish, protect, and hydrate your skin, serum for acne skin helps control sebum secretion, reduce bacteria, and reduce acne recurrence.
Specially formulated to be gentle on the skin and perfect for acne-prone skin, Hiruscar anti-acne serum has also been created to address mild to moderate acne conditions, which includes blackheads, whiteheads, papules, and pustules.
Let's get deeper into the unique features of Hiruscar Anti Acne Purifying Serum, the best serum for acne-prone skin:
Light-weight moisturiser for acne-prone skin
Reduces excessive sebum which can cause acne formation
Tightens pores
Light and non-greasy texture
Add Serum into Your Skincare Steps to Treat Acne Better 
Getting clear and beautiful skin is possible by adding a few simple steps into your skincare routine. Here's a guide on how to add Hiruscar Anti-Acne Purifying Serum, the best serum for acne-prone skin as part of your daily skincare routine to treat acne better in just 4 simple steps!
Step 1: CLEANSE
Wash your face with clean water, and gently massage the cleansing gel or foam on your face and rinse thoroughly.
Step 2: TONE & MOISTURIZE
The next essential step after washing your face is to apply Hiruscar Anti Acne Purifying Serum all over your face. (face serum anti-acne)
Ensure to do this step twice daily, once in the morning and once before bed.
Results can be seen within 1 week. (Improvement on acne conditions & reduction in acne inflammation)
Step 3: TREAT
Apply Hiruscar Anti-Acne Spot Gel on affected areas
Practice this step around 2-3 times a day
Step 4: CONCEAL
Finally, conceal and treat your acne with lightening effect using Hiruscar Anti-Acne Spot Cover Fluid
Get Back the Skin You Want! 
Using an anti-acne serum together with other Hiruscar anti-acne treatment products is the most hassle-free choice that can provide faster and more effective treatment for acne and acne scars. For more information on anti-breakout serum or other anti-acne products, click one of our online stores to know more.